Keeping South Dakota Waters Clean is Good for Summer Fun and Farming
For many South Dakotans, summer time includes having fun on the water. Whether it's a road trip to the lake or a quick dip in the river, it's a tradition that's great for escaping the heat and creating memories that last a lifetime. The same holds true for farmers like Colin Nachtigal who lives near the Missouri River and enjoys fishing, kayaking and swimming on hot summer days.
"When we're out working on the farm and it gets hot, we jump in the river for a quick dip," he said. "I'm excited to teach my 18-month-old how to swim in it someday."
While Colin doesn't get to be on the water in summer as much as he'd like, he does spend most of his time on the banks of the Missouri working with irrigation pumps. He, along with his dad, two uncles, brother, and six cousins, grow corn, soybeans and wheat and raise beef cattle along the river. He's part of the fourth generation to cultivate the land and thinks of the Missouri River as more than just a swimming hole.
"Some of our land is irrigated, and the water comes right from the Missouri River. Our rural home's water system uses water from the river, so we also drink it," said Colin.
He uses sustainable farm practices to ensure the water is safe for his crops, animals, family and neighbors who depend on it. The Nachtigals blend reliable practices from the past and innovative technology of the future to prevent soil erosion. This includes GMO seeds, minimal tillage and using equipment that puts crop nutrients, like fertilizer, in the soil.
"Minimizing tillage, or no-till, means that we're leaving the soybean plant roots in the ground after harvest to hold the soil in place. Putting the fertilizer into the soil instead of on top helps the plants use it more efficiently. Both reduce erosion and keep the river clean," explains Colin. He also uses GMO seeds that require less pesticides. If he does have to apply pesticides he waits for the right day.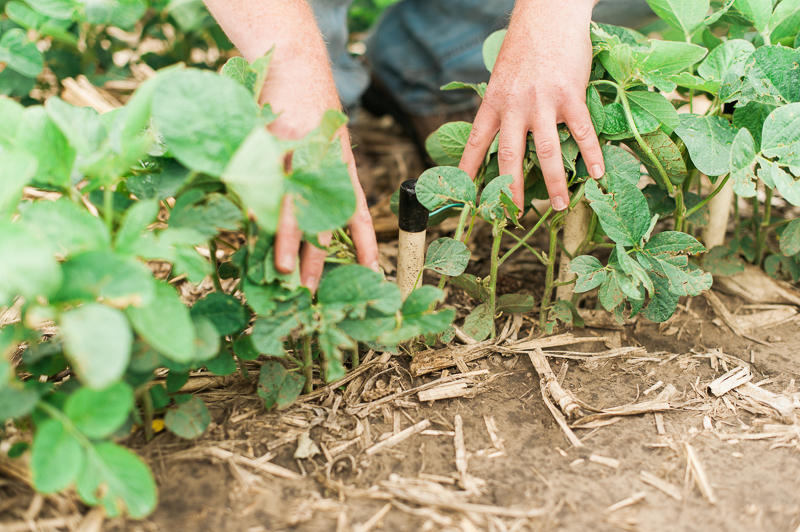 "We're always looking to improve on the ways of the older generation. Learn from them, but also try new ways to take care of the land and water," said Colin. "Hopefully one day my daughter will be part of the family farm and grow food for people in South Dakota. In the meantime I'm looking forward to making more memories with her on the river."
Summer isn't the only time of year to make lasting memories. Learn how South Dakota farmers spend time with their families all year long by reading these blogs:
Celebrating Ag Day with Farm Families
Cooking and Family are at the Center of this South Dakota Farm.
Heartwarming Holiday Stories From South Dakota Farms