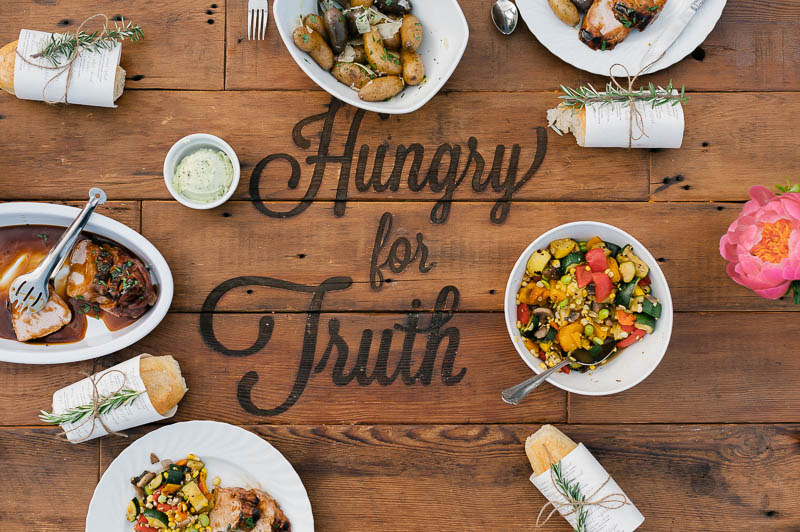 The Making of the Hungry for Truth Table
The dinner table is a time-honored tradition of being the place where family and friends share in food, fellowship and conversation. It's where we gather to make connections, which is why the dinner table serves as the Hungry for Truth symbol of open dialogue about food and farming. Our table also happens to have a great farm connection.
KT Kustom Kreations, the company run by the husband-and-wife team of Traci and Kory Kickul from Sioux Falls, built the beautiful table with reclaimed wood from a 1940s-era South Dakota barn.
"I grew up in Hoven, which is a typical small town and farming community in South Dakota," Traci said. "Growing up, my dad was actually a grain buyer for years and hauled soybeans. This project was fun  because of the connection to farming in our state."
The wooden legs of the table came from South Dakota as well, but Traci and Kory had to do some "hunting" to find those.
"We were actually back in my hometown pheasant hunting when we came across a gorgeous old barn," Traci explained. "We looked at each other and said, 'we've got to go explore that barn.' That's where we found the wood for the table legs."
After a lot of time spent sanding the 50-year-old reclaimed wood – which Kory admits was the longest part of the process – they lasered the Hungry for Truth logo into the center of the table as the finishing touch.
Since construction, the table has been used at events and in television commercials and recipe videos. It remains the centerpiece of this thriving, farmer-led initiative.
So please, pull up a seat around our virtual table and ask real South Dakota farmers your questions about farming and food. Leave them in the comments below. See what it's like to gather around the table with South Dakota farmers at our Farm-To-Fork dinner.