Raising Cattle: An Animal Love Story with Drew Peterson
The Peterson family farm has been around in South Dakota for 120 years now and it has progressed in that time through four generations of farmers.
Drew Peterson is in that fourth generation of Peterson farmers and we spent some time with him to learn the beauty of raising cattle and the chores that come along with it during the winter to keep the animals cozy and healthy.
Drew said his family has always had cattle in one capacity or another.
"Slowly my dad started feeding more cattle up there, building out pens, building upon clients…It's really evolved to where we're at now. Running cattle out west, that's new," Drew said. 
In the winter, a day on the farm for Drew mainly involves feeding cattle.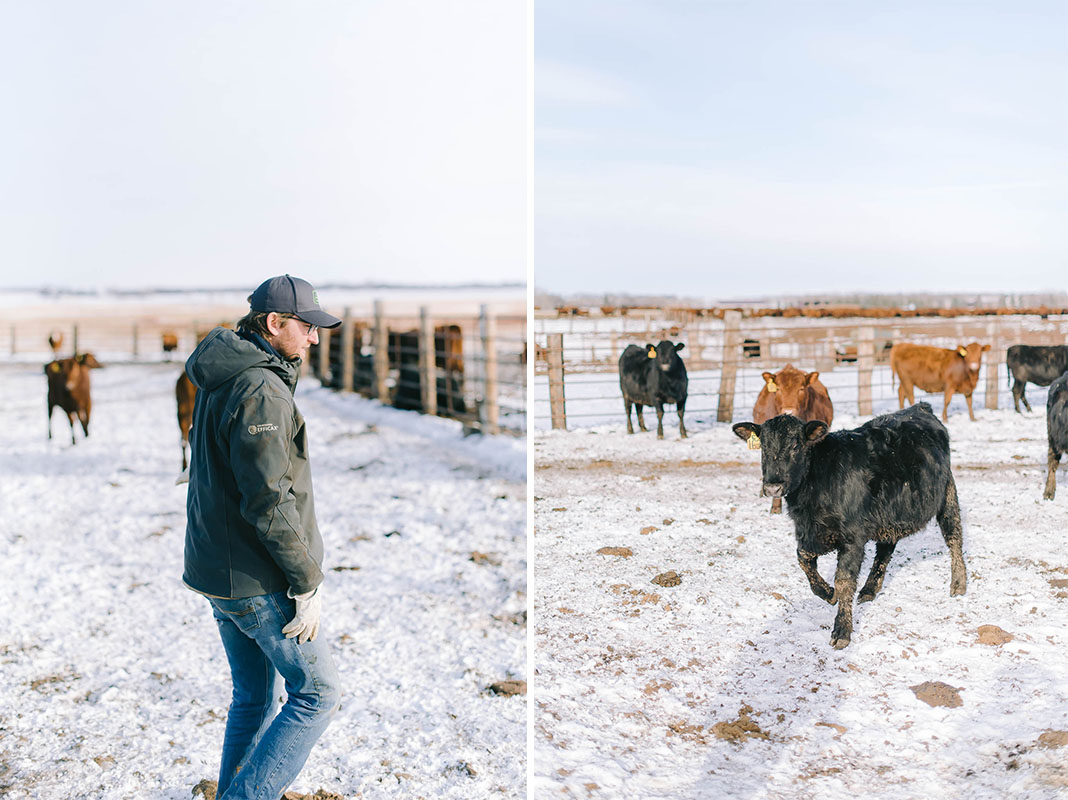 "That's the number one goal. Between the feed truck and the feed wagon, we feed about 12 loads a day to the feedlot cattle, and then some of the cows, if they don't have cornstalks to graze, and they'll need supplemented feed or maybe they'll go half and half," Drew explained. 
As the Peterson farm gets ready for calving season, they do a lot of pregnancy checks on their cows.
"There used to be more winter activities, but since the efficiency in the organization, we've been starting to move that stuff up so when we bring those cows home in November, right away before we put them out to cornstalks, we'll run them through and pre-check them so that we don't have to round them up in a month and do it again," Drew said. 
They try to work shorter hours during the winter too and take advantage of the slower season.
"We try to get all the fall stuff done by Christmas around here, and we were able to do that this year," Drew said. "Then January, February into early March is when we start calving our heifers. That's when you want to try to get away in the normal year.. I'll go out to the Black Hills and my wife and I like to go to New York once in a while, but we definitely can't do that right now."
Keeping the cattle healthy and warm during the winter is also a priority. While the cows can't necessarily say what they need, like any animal lover, Drew has a way of knowing.
"In the morning, they all should come up and say, 'All right, I'm excited to eat some food.' If there's one standing back, or even coming up slow, or maybe it's limping a little bit or something, those are all signs," Drew explained. "Being able to recognize things like that also helps with calving season too because you can see a cow that's a little fidgety, or she's holding her tail funny, she's probably gonna calve."
It's all about getting them on a dry place to lay and for watching for signs of cows being sick or pregnant. 
"If they look sick we'll give the specific animals an antibiotic," Drew said. "Normally, we'll pull them into a different pen so that they can get some more grass, instead of just their normal ration, because sometimes they have a gut ache, where they'd rather not eat the normal feed that we feed them. So the grass can help stimulate their stomach and get them back on track for eating."
When you add up all of these tasks, you have a season.
"There are everyday moments that are really beautiful moments, especially like calving season," Drew said. "Like a successful day where we got the calves ran out west, you open the gate up, and they go out into a beautiful sunset. Those moments are fantastic. Then the next morning comes and you do it all over again." 
When Drew and his family aren't raising cattle or farming corn and soybeans, they're spending time together golfing, pheasant hunting, and playing with Drew and his wife, Lauren's adorable Australian shepherd poodle mix, Winston (named after Winston Churchill).
There's a lot of love for family, farming, and animals on the Peterson farm. Read more about calving season in South Dakota on our blog A Day in the Life of Calving on a South Dakota Ranch.