Chorizo Potato Hash with Fried Eggs
Here's a fast and filling brunch dish for the weekend, or any day for that matter. You can substitute fresh potatoes or hash browns for the diced potatoes below.
Farmers in the U.S. produce the ingredients in this hash very efficiently. A big reason for this is because they use the latest agricultural technology. Think how technology has improved your life in the past decade alone. The same is true in farming, and why shouldn't it be? Today's farm equipment and pesticides are so advanced that farmers can be very precise in controlling weeds and insects. Technology allows us to continually improve how our food is grown. We want the latest technology in every other aspect of our lives so why not embrace it in our food system? Today's food is much cleaner, safer and consistent than it was 30 years ago.
This breakfast-for-two recipe can easily be expanded to accommodate your family.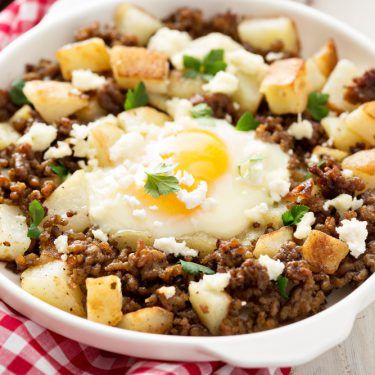 Chorizo Potato Hash with Fried Eggs
Ingredients
15

Ounces

Chorizo

3

Cups

Potatoes

Refrigerated or Thawed Frozen, Diced

1

Cup

Onion

Chopped

1/3

Cup

Red Bell Pepper

Chopped

2

Cloves

Garlic

Minced

Salt

Season to taste

Black Pepper

Season to taste

1-2

Tablespoons

Olive Oil

1

Tablespoon

Butter

2

Large

Egg

Cilantro

Fresh, for garnish

Salsa

Optional
Instructions
Remove casing from chorizo, if present. In a large, nonstick skillet, cook chorizo over medium-high heat until brown, using a spatula to break up the meat. Reserving drippings in skillet, use a slotted spoon to transfer chorizo to a plate lined with paper towels; set aside. To reserved drippings, add potatoes, onion, bell pepper and garlic. Sprinkle with salt and pepper. Cook over medium-high heat for 12 to 15 minutes or until potatoes are crisp on the outside, adding olive oil as necessary to avoid sticking. Stir in chorizo and reduce heat to medium-low. In a small skillet, melt butter over medium heat.

Break eggs into skillet; sprinkle with salt and pepper. Reduce heat to medium-low and cover briefly. Uncover and cook eggs until whites are completely set and yolks start to thicken slightly. To serve, divide potato mixture between two plates. Top each with a fried egg. If desired, garnish with cilantro and your favorite salsa.

If there is enough moisture in the hash at the end of cooking, save a pan and simply crack the eggs on top. Cover, reduce heat and simmer until the yolks set up. A soft yolk and crisp potato bottom is the best way to eat this hash.