Cozy Up with Oksana Silchuk + Potato Chicken Noodle Soup
During snowy South Dakota winters, sometimes it just feels good to snuggle in at home with our favorite comfort foods. When blogger and designer Oksana Silchuk needs to take time for herself, she recharges by spending time in the kitchen. Cooking comforting meals, like this Potato Chicken Noodle Soup, takes her back to her Ukrainian roots and fuels cozy days at home with her husband and two toddlers.
Shopping for the ingredients for her Potato Chicken Noodle Soup reminds her of the impact farmers have on her family.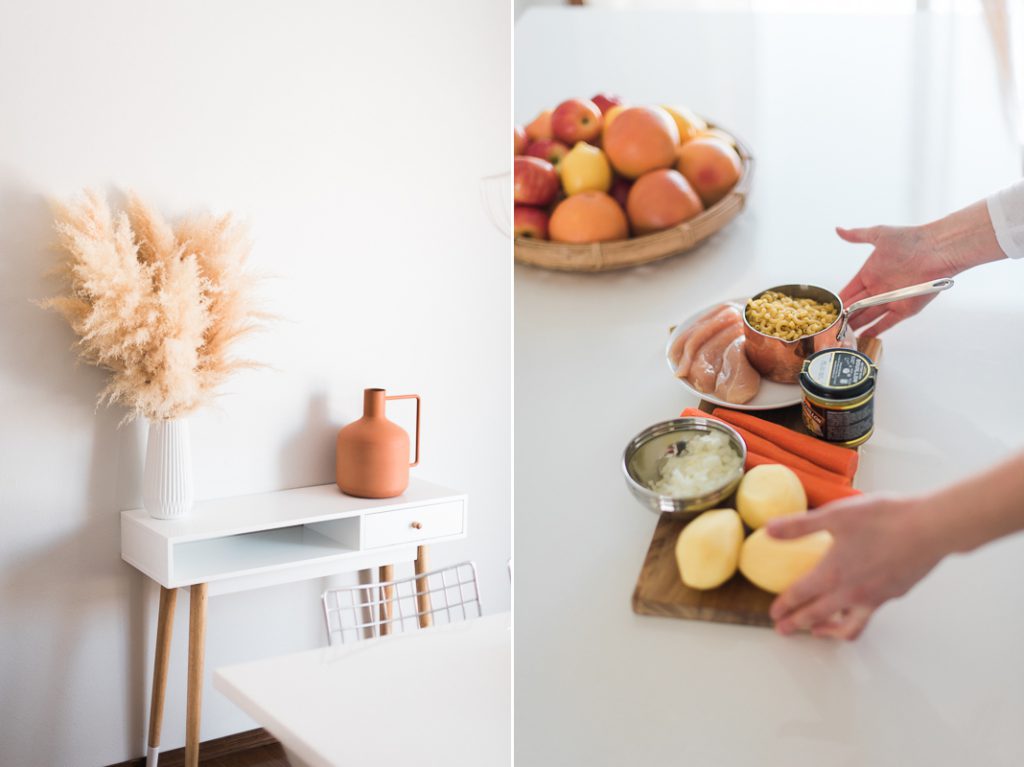 "My appreciation for farmers runs so deep," Oksana said. "Every time I am at the grocery store, I am reminded that the produce and meat I purchase is there because of their labor and care. It's humbling."  
That's one of the reasons why she's a fan of Hungry for Truth. It's an opportunity to get to know the farm families behind the food she enjoys. Though she grew up in town, she understands the work that goes into growing crops and raising animals. Her family even raised a few chickens in their backyard.
"I recall feeding them, chasing them, taking care of them and, ultimately, my mom making us delicious meals with them," said Oksana.
Oksana is thankful that Hungry for Truth gives her the chance to teach her children about how South Dakota farmers care for their animals, crops and the environment. Oksana's kids even get a chance to learn about how crops like soybeans are used for so many different things like animal feed, cooking oil and even the crayons they color with. Not bad for two Sioux Falls city kids.
Who knows? Her children might get the chance to call themselves farm kids one day.
"I've always lived in the city but am a total farm girl at heart," she said. "I dream of one day owning some livestock and living on a farm."
Wherever the Silchuk family winds up, they're sure to have many more cozy days gathered around the table, sharing soup and each other's company.
"This is the one meal my babes can't get enough of. They can easily gobble up a few bowls and ask for more," Oksana said. "Hope you enjoy this recipe as much as we do." 
Snuggle up to Oksana's soup recipe below. Looking for more comfort food? Try this Crockpot Turkey and Edamame Chili recipe to warm your winter days.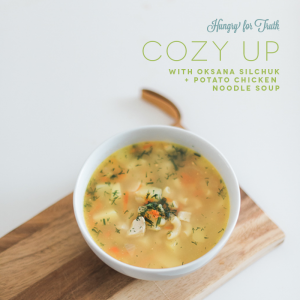 Potato Chicken Noodle Soup
Ingredients
3-1/2

quarts

Water

1

medium

Onion

finely chopped

5

tablespoons

chicken flavored "Better Than Bullion"

2

tablespoons

Butter

2-3

medium

carrots

grated

3-4

chicken tenders (fresh or thawed)

cut into 1/2 inch pieces

1

cup

elbow macaroni noodles

2-3

Potatoes

peeled and sliced

3

tablespoons

dill

fresh or frozen

salt and pepper

to taste
Instructions
Add water to large pot. While water is cold, add in onion and bullion. Bring to a gentle boil.

In a skillet, melt butter and sauté carrots until they are soft and golden.

Combine sautéed carrots with bullion and onion mixture. Use a few spoonfuls of broth to rinse the butter into the soup.

While water is gently boiling, add chicken, noodles and potatoes. Cook until soft, about 15 minutes. Add fresh or frozen dill and salt and pepper to taste.