Top Three Holiday Hosting Hacks + Blackberry Smash Signature Drink
The holidays are a time of tradition that builds on the experiences of the past to enhance the future. If you're looking for simple holiday hosting hacks, Addie Graham-Kramer has you covered. Addie is the creative mastermind behind many Hungry for Truth events and the owner of The Event Company in Sioux Falls. Over the years, she's built a reputation for transforming the mundane and everyday into magical experiences. Sometimes, it just takes a few simple tweaks and a signature drink like her Blackberry Smash to amp up your traditional holiday gathering.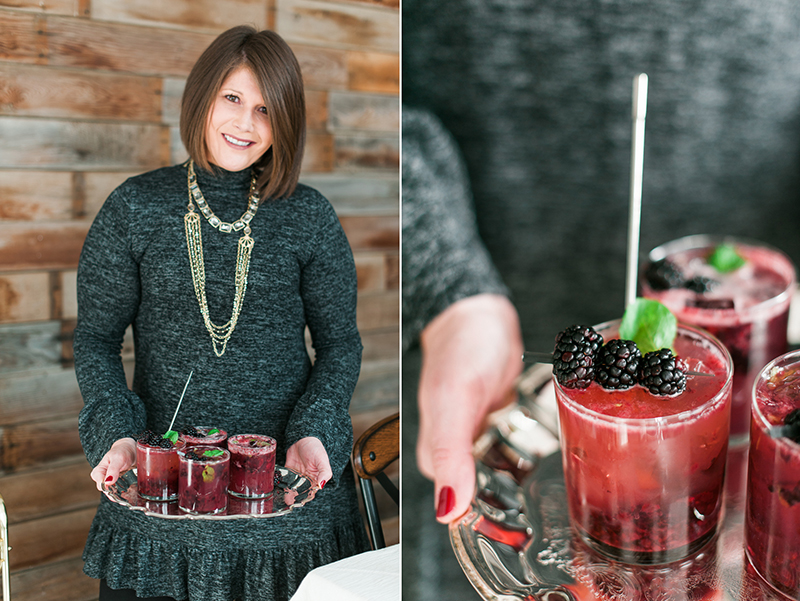 South Dakota farm families are a great example of how traditions can change and improve with time. Today's soybean farmers still care about growing safe and healthy food for families just like their grandparents, but they use the latest technology to do it in more sustainable ways. This includes using iPads for soil mapping, GPS technology for planting and GMO seeds to decrease pesticide applications. Whether they grow soybeans or raise animals, farmers are making decisions with future generations in mind.
Addie has seen this work in through working with Hungry for Truth. "Being a part of the Hungry for Truth events, I have seen first-hand the pride that our local farmers have in producing food that is healthy and safe for our families. These men, women and children who are a part of family farms are incredibly passionate about sharing their story and it's such an honor to learn all that goes into local farming operations. I feel more connected to those who feed my family."
As you look ahead to the holidays, here are Addie's top three hacks to try at your next event:
Set up hors d'oeuvres stations throughout the house to allow for a good flow of guests and to inspire casual conversations. Feel free to dress up these stations, but allow guests to serve themselves to help them feel more at home.
Create one seasonal signature drink. This can be memorable for guests and saves you from serving different beverages all night. Pre-mix the signature drink ahead of time and leave on the beverage cart or counter for guests to serve themselves. Make your signature drink adult friendly by providing alcohol to mix.
Naming your signature drink is part of the fun. Put up a chalkboard sign or handwrite the name of the drink on a piece of colored card stock and place it near the beverage. Be sure to have copies of the drink recipe on hand for guests because they will ask for it. You can even create coasters with the recipe so guests have it at their fingertips throughout the night.
Give guests a sweet treat to end the evening. Keep plenty of brown kraft boxes and kraft bags around your pantry to send party extras home with guests or provide them with a snack to take home. Who doesn't want to snack on a sweet Christmas cookie or piece of fudge for the drive? Purchase treats from a local bakery, package in a small brown kraft box, tie with a holiday ribbon and finish with a sprig of evergreen.
Learn more about how farm practices have changed during the past 90 years on one South Dakota family farm by reading Eunice's story. Then test out your beverage-making abilities by creating this delicious signature drink.
Blackberry Smash
Ingredients
Kid-Friendly Version
1/4

cup

fresh blackberries

Lemon Juice

fresh mint leaves

2

tsps

raw sugar

8

oz.

lemon-lime soda

mint sprig and blackberries for garnish
Adult Version
2

oz.

bourbon

2

oz.

wheat beer
Instructions
Muddle fresh blackberries, lemon juice, mint leaves to your taste and sugar in a lowball glass.

For adult version, stir in whiskey.

Add crushed ice.

Top with 8 oz. of lemon-lime soda. For adult version, substitute with wheat beer.

Place a skewer of 4-5 blackberries in the glass and top with a mint sprig.