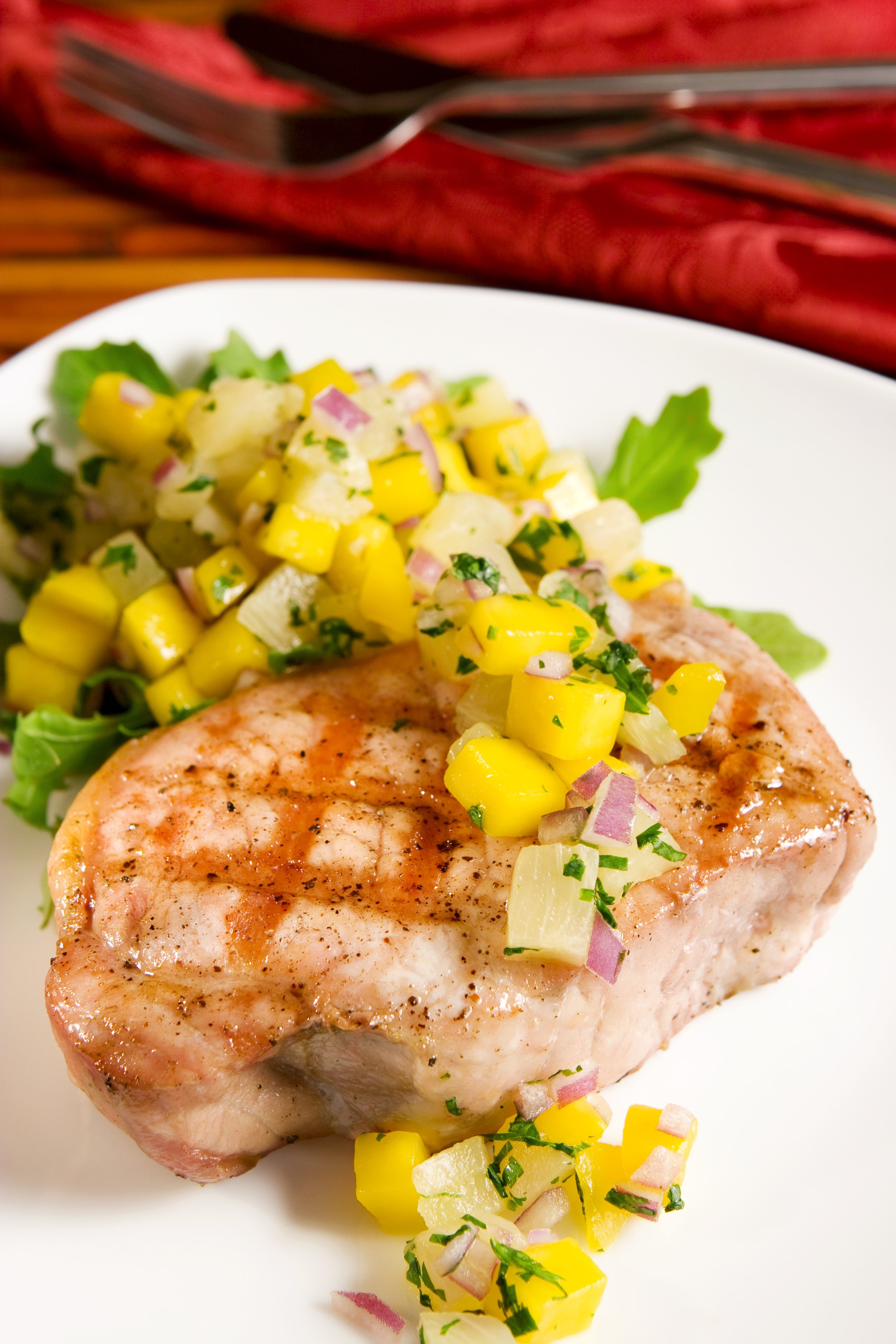 Grilled Pork Tenders With Chile Mango Salsa
This delicious dish is the perfect way to spice up a night on the grill. It goes great with rice and beans or a side of plantains. If you can't find jerk seasoning in your local store, a little garlic salt and cayenne or chili powder will do in a pinch.
The pork tenders in this recipe are a great source of protein. Did you know that livestock have a stricter diet than most humans? Pigs get their protein from high-quality soybean meal as part of a diet that's often prescribed by an animal nutritionist. This helps them grow lean and healthy. You can find more spicy dinner ideas at www.hy-vee.com/meal-solutions.
Grilled Pork Tenders With Chile Mango Salsa
Ingredients
1

Medium

Mango

Seeded, Peeled, and Diced

2

Hatch Chili Peppers

Seeded and Diced

1/4

Cup

Red Bell Pepper

Diced

1/4

Cup

Red Onion

Diced

2

Tablespoons

Cilantro

Chopped

1

Tablespoon

Lime Juice

1

Tablespoon

Olive Oil

1/4

Teaspoon

Salt

1 1/2

Pounds

Pork Tenderloin

2

Teaspoons

Jamaican Jerk Seasoning
Instructions
Chile Mango Salsa
In a medium bowl combine mango, chilies, red pepper, red onion, cilantro, lime juice, olive oil and salt; set aside. Substitute with jalapeño, serrano or other peppers to suite your taste.
Grilled Pork Tenderloin
If necessary, trim fat and shiny membrane from pork tenderloin. Rub all sides of meat with Jamaican jerk seasoning. Preheat grill to medium heat. Grill over direct heat for 15 to 20 minutes or until internal temperature of thickest part reaches 145°F, turning to brown on all sides. Slice tenderloin 3/4-inch thick. Serve with salsa.
Notes
Daily Values:
15% vitamin A
2% calcium
110% vitamin C
10% iron Nutrition Facts Per Serving:
Calories: 210
Protein: 29 g
Carbohydrate: 10 g
Saturated Fat: 1.5 g
Cholesterol: 90 mg
Sodium: 300 mg
Dietary Fiber: 1 g
Sugars: 8 g
Fat: 6 g
Trans fats: 0 g