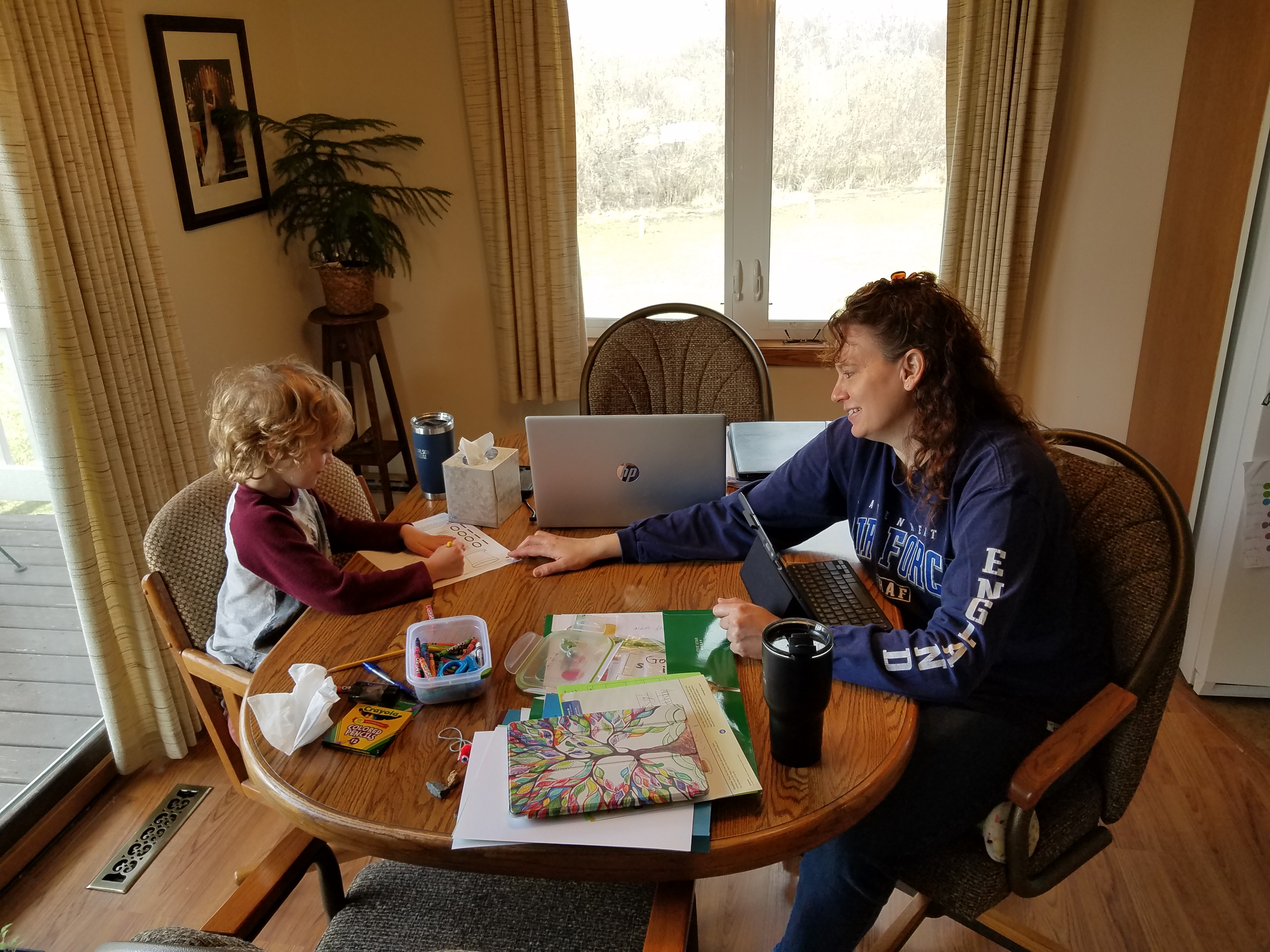 Q&A: How Farmers Work From Home
With more of the workforce doing their jobs remotely than ever before, Hungry for Truth talked to several South Dakota farmers about how they do their jobs remotely and how the current COVID-19 pandemic is affecting their day-to-day operations. 
The Farmers
Heather Beaner
In 2011, after 12 years of active duty as a military lawyer in the Air Force, Heather transferred to the Reserves and came home to Mellette to take over the family farm. She and her dad, now semi-retired, grow 2,300 acres of corn and soybeans. Heather's husband is the president of a general commercial contractor in Aberdeen, and they have a 5-year-old son. 
Outside of farm operations, Heather is involved in: 
South Dakota Soybean Research and Promotion Council

Agtegra Cooperative, the local grain and agronomy elevator (Board of Directors)

American Legion Auxiliary (President)

Legion post (Adjutant)

Church (Worship coordinator) 
Craig Converse
Craig, a third-generation South Dakota farmer, earned his bachelor's and master's degrees in agronomy from South Dakota State University. He worked as a corn breeding research station manager for Syngenta in Janesville, Wisc., before returning home to the family farm near Arlington in 2008. Craig farmed with his father for 10 years before he passed away in 2019.  
Craig is a single father to his two sons, aged 19 and 15, and 13-year-old daughter. Christopher, the oldest, lives on the family farm, while Craig lives in Brookings and commutes as necessary, staying with Christopher during busy seasons to reduce driving time. 
Outside of farm operations, Craig works on a seed sales business and is involved in: 
The South Dakota Soybean Research and Promotion Council (President) 

World Initiative for Soy in Human Health (Committee Board) 
Drew Peterson
Drew has been farming and ranching on land north of Salem with his father Steve and brother Kent for a decade. The family operation spans three counties and includes corn, soybeans, a cow-calf herd, and a cattle feedlot. 
A University of South Dakota graduate with a business finance degree, Drew contributed to political campaigns during college and worked in New York City in corporate business before returning to the farm. In 2018, Drew married Lauren Eichacker Peterson, who grew up on a neighboring farm. They've had their dog, Winston, for almost a year. 
How do you work remotely?


Heather: Lots of Zoom meetings. With both boards I serve on needing to continually meet, we spend a lot of time looking at each other on screens. We do some conference calls, but video is better. And we always wear pants. 🙂 
Craig: I can work remotely most of the year because I have some of my work, such as spraying and fertilizing, done through the local elevator and this requires mostly management of when conditions are right for application. Seed sales are usually done by visiting other farms or through emails and telephone calls. Also, I spend a lot of my time marketing grain that I raise, and I am able to do this at my home in Brookings. 
I am always very close to my cell phone. I conduct most of my business on the phone through apps that collect information on my growing crop, weather, and all data collected from planting to harvesting. The Chicago Board of Trade futures prices on my phone help with marketing. My truck also becomes my traveling office as I take materials back and forth from my office in Brookings to the farm office.
Drew: Much of my work is naturally remote. I am working near others during certain tasks around the farm, but most of the tasks I complete, I am alone in a tractor, vehicle, or barn. What is more "remote" lately is communication with our banker, agronomists, feed nutritionists, and anyone else we do business with. We are not taking in-person meetings, which can be a challenge when trying to work through plans or solve problems. 
I am also a board member of the Soybean Association, and we do many Zoom video conferences.  
What are some benefits to working remotely? 
Craig: Since I'm working remotely so much, my kids can live in a larger community where they have more options for finding activities that they enjoy. The conveniences of living in town vs. the farm provide me with easier access to shopping and entertainment and social activities.  During the winter months, I don't have to worry about not being able to get out during bad weather.
How do you manage a typical work day?
Heather: Keeping to a schedule. With our son home from school with work he has to complete in order to finish the year, and the distractions of his box of Legos, I make sure that after breakfast, he knows it is time to sit down and do school work. We take a break and do PE and Art or Music lessons the teachers sent, and we try to finish the actual school work by lunch.  I still have farm work to do too—we just got done hauling corn on a contract—so sometimes the school work schedule has to flex to meet the farm work schedule, too.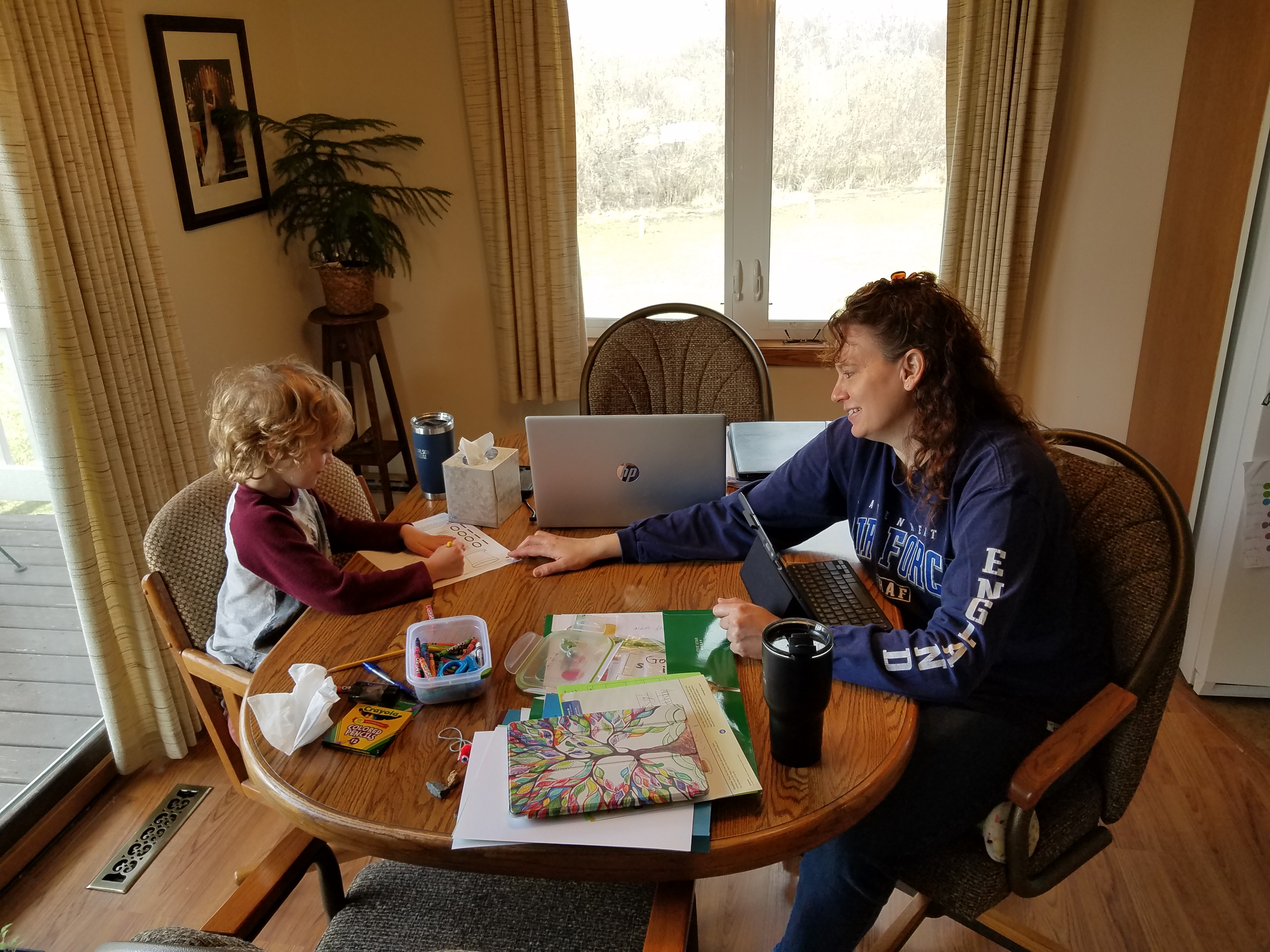 Drew: A typical work day for me changes from season to season. Right now we are very busy calving, feeding our feedlot cattle, and preparing for planting. Every third nigh,  I'm up all night taking care of calving duties. One thing different about farm/ranching with livestock is that the work has to be done every day. You can plant tomorrow, but the cattle have to be fed every day and a cow will calve on her schedule, not yours. 
How do you balance work/family/life?
Craig: I have a hectic lifestyle sometimes because of working remotely, caring for my kids, and visiting my girlfriend and her kids. I couldn't do it all without support from my mother who now lives in Brookings and can help care for the kids when I'm gone traveling or working at the farm during those busy times. She has moved into my house this week while I'm staying at the farm.  Also, my kids now are old enough and are able to drive, and that helps me out.
Drew: Lauren understands that there will be very busy times during the year where I will have to be working long hours and every day. To make up for that, we plan trips for slower times and get away. NYC is our most regular destination, and we have a scheduled late-summer trip to Ireland that is TBD at the moment. 
Given our current world pandemic situation – how has #StayHome or #SocialDistancing affected your work and life? 
Heather: Since we don't go anywhere anymore, my son never sees any other kids, which means my husband and I have to be his playmates all the time. Having my son around the farm when I have to work with equipment means we have to find a way for him to be out with me but be safe. He is good when riding along in the semi or tractor, but when I'm loading corn with augers or moving the grain cart around, he stays in the van watching the iPad, and if he needs anything he honks the horn! My husband can work from home now and then, so we do enjoy the increased family time.
Drew: It's easier to work through projects because we don't get interrupted in person as much. 
I am an avid sports fan, so I miss all of the sports not being played. I enjoy watching and listening to all sports, and it's a nice escape from a hectic work day, especially this time of year during calving and planting.  Many hours throughout the year are spent listening to baseball, football, and basketball on the radio in a tractor or combine. The last sporting event I saw was the USD women defeating SDSU to win the Summit League title. ???? 
As with anyone, Lauren and I also miss socializing with friends or a night out for dinner. 
______________________________________________
Even in a pandemic, many farmers across the state and beyond are #StillFarming to feed our communities and the world, whether they're in the field or managing the farm online. To read more on how farming goes digital click here: When Farming Goes Digital with Karla Santi, Walt bones and Hungry For Truth 
Are you working remotely for the first time? Do you have tips for farmers or other remote workers? Leave a comment below!