Harvest Social Sparks Conversations About Pesticides, GMOs and Sustainability
Farmers hosted guests from western South Dakota at Prairie Berry Winery in scenic Hill City for the second annual Harvest Social on Thursday, November 2. The warm, bright setting offered farmers and community members an opportunity to escape the chill and engage in conversations about how food is grown and raised on today's farms and ranches.
Huron farmer Brandon Wipf welcomed the crowd and shared stories about growing soybeans, corn, wheat and hay on his fourth-generation family farm. After attendees enjoyed appetizers, desserts and beverages created exclusively for the social by Prairie Berry Winery and Miner Brewing, farmer Jerry Schmitz from Vermillion also spoke to the crowd.
He explained that, in addition to growing soybeans and corn, he and his wife Sally also care for a variety of fruit trees and keep bees to help with plant pollination. He then showed participants three apples: one came from his farm and two he purchased at a grocery store. The two from the store were different because one was grown organically and one conventionally. He invited attendees to explain three things about the apples.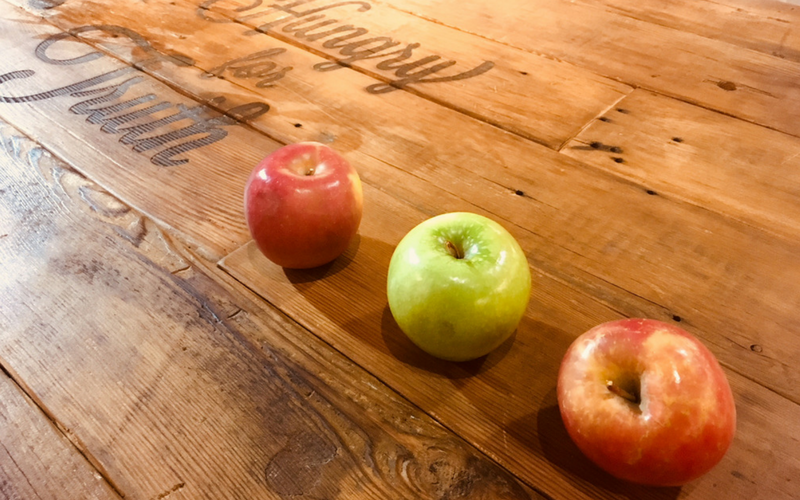 This sparked a lively discussion about the use of pesticides and GMOs. A few people in the crowd knew that organic and conventional farmers use pesticides but that organic farmers cannot use synthetic pesticides.
"Just because it's organic doesn't mean a pesticide wasn't used," said Jerry.
He also explained how GMOs are bred to have specific traits that help farmers reduce their use of pesticides and still grow safe and healthy crops for people and animals. Soybeans are one of 10 crops that are genetically modified and approved for use in the U.S.
That led to questions about how farmers prevent pesticide drift, the increased use of precision technology and conservation practices on the farm.
"Everything has to be just right or we don't spray," said Jerry. "We don't go out when it's windy or the air temperature isn't right. We mix pesticides with water according to label instructions and add an ingredient that helps them stick to the plants' leaves. Precision technology in our sprayers also helps us apply just the right amount of pesticide according to label instructions."
Brandon explained how using precision technology helped him take steps to make his farm more sustainable.
"By measuring every acre of my fields with precision technology, I'm able to decide where to invest most of my time in growing the best crops," said Brandon. "The land that isn't as productive can be converted to grass for buffer strips and habitat for pheasants. For me, sustainability is all about growing and raising quality food, while improving lives for families in South Dakota."
Let us know if you'd like to attend a future Hungry for Truth event or have a question for a farmer by sending a note via this form. Curious to learn more about how GMOs, pesticides and sustainable farm practices contribute to safe and healthy foods? We've got you covered with these reads:
Sustainability Grows Strong on South Dakota Farms and Ranches
How Farmers Apply Pesticides in Four Steps