Field Updates From Our Farmers
It is the month of August and we have had a hot and humid summer, it has been hard for the crops to keep up with the weather. We asked some of the farmers to give us their field updates.
Farmer Todd Hanten
4th of July picture with his son and grandson.
"We are loading the last of the 2020 soybean and corn crops and hauling them to market. The prices are great $6.40 and $14.08 with the best basis ever on corn. Our spring wheat is ready for harvest, God and weather permitting. We are currently spraying fungicides on our corn and soybean crops and insecticides where needed.  Both crops look surprisingly good for the lack of moisture and extremely high temperatures we have received. Our spring wheat crop, however, will be my worst in my 38 years of raising it. The extremely high humidity combined with the heat has been really hard on my feedlot cattle. They are big, black, and ready for market but we are unable to get them moved fast enough."
Farmer Drew Peterson
"Soybeans 10 miles northeast of Salem, SD are looking good for the dry and hot year we have had so far. They are thigh-high and well into the reproductive stage, setting pods while also flowering to set more pods in the coming weeks. So far I am seeing more two-bean pods when we hope to average three-bean pods, but there is still plenty of time for the soybeans to set more with additional rainfall. We will require more rain in the next 5 weeks to make much of a yield, but the potential is there for a decent crop if moisture comes. These soybeans are 2.5 maturity planted 5/13."
Farmer Jordan Scott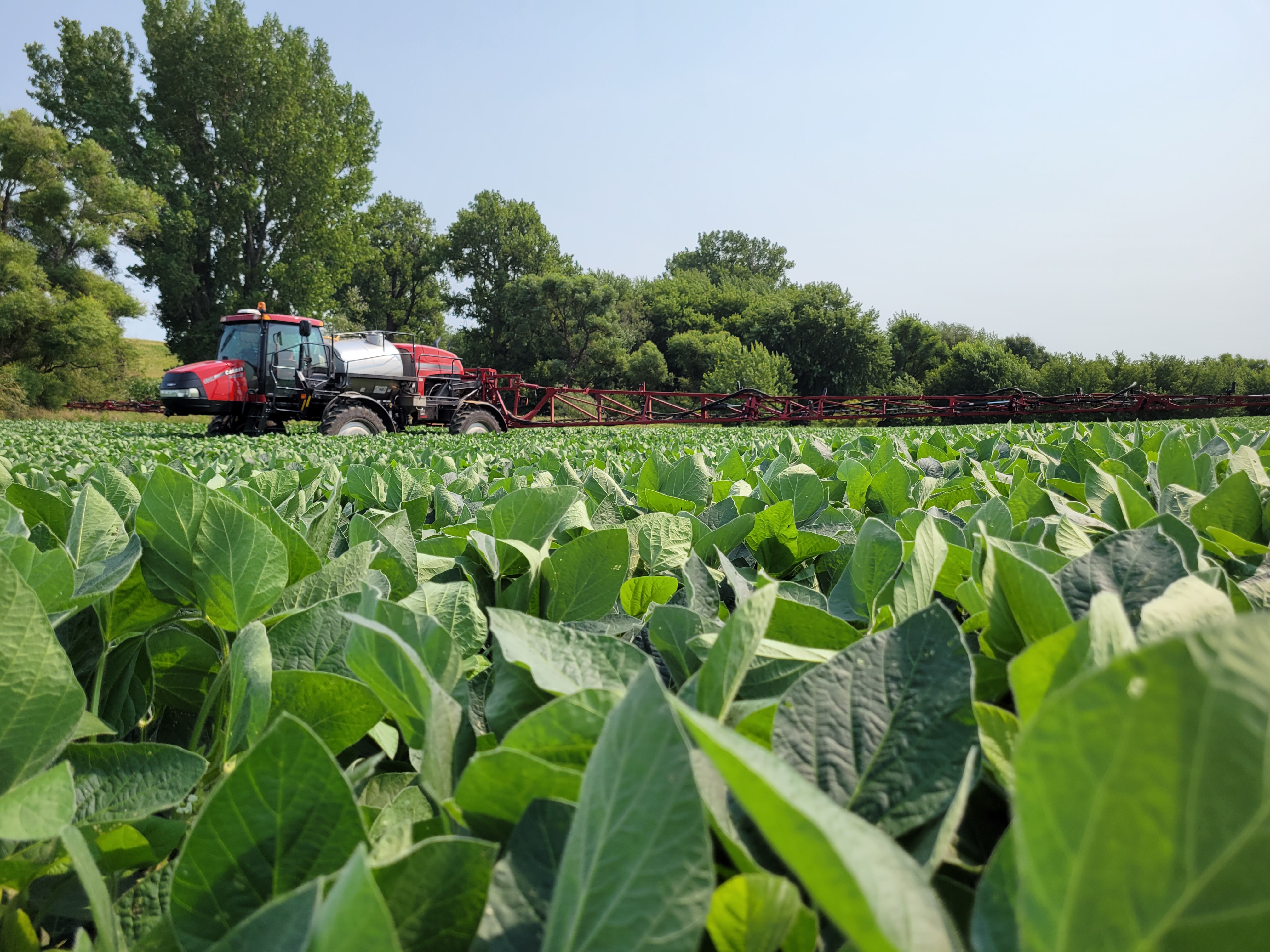 "This week we are spraying our soybeans with fungicide. This protects our crop from devastating fungus and diseases that would destroy our crop. At this stage in the plant's growth, the soybeans are producing the pods that grow the soybean. Our soybean plants are between two and a half and three feet tall."
Farmer Jeff Thompson
"My farm is located about 25 miles NW of Sioux Falls in the Lyons area. We have been missing some of the rains that Sioux Falls has received and are quite dry. The field in the picture is on the ground that was too wet to farm the past two years. Because of this it is now suffering badly and will be below average yields even if rains come soon. The damage has been done but we farm on."
If you would like to learn more about pesticides check out our article What Are Pesticides and Why Do Farmer's Use Them?